This page is in the process of moving to a new location:

https://sites.google.com/view/open-canada/seminars

Please bookmark the new location.
---
Analysis of Official Canada Data
Related to COVID-19 Vaccine Efficacy and Safety
"Data Science with Open Canada Data" Weekly Seminars
www.IVIM.ca / data / seminar

YouTube Channel | Facebook group | Twitter | Substack Newsletter (NEW)
Dial-in Numbers | Discussion Topics | Past Seminars | FAQ
Join us for our weekly "Data Science with Open Canada Data" seminars to learn more about official data collected by the Government of Canada related to COVID-19 Vaccines safety and efficacy, and various data processing techniques that help visualize and better understand these data.
These seminars happen every Friday and Wed - via Zoom and Facebook Live Event link - at noon Ottawa time in an informal "Lunch and Learn" format, where anyone can ask any questions.
Professionals working with data, data lovers and truth seekers of all kind are invited.
If you'd like to present your work, have any questions, feedback, or ideas for future seminars, please contact us at dg @ ivim.ca. You can also post your comments and questions on our YouTube Channel, Facebook group and Twitter. We have a team of data scientists who will get them answered for you.
The recordings from past seminars are posted on YouTube.
The transcripts and agenda will be now published at Substack: https://ivim.substack.com/
---
Dial-in Numbers
Via Zoom (with screen-sharing and two-way communication):
Via Live streaming in Facebook (without screen-sharing ,viewing only):
---
Discussion Topics
New weekly stats analysis: what's the dynamics, risks , today vs. last week, new insights, outputs
What are Open Data do we have in Canada

Vital statistics - deaths: Deaths by causes, deaths by age, excess deaths
Vital statistics - births
Vaccine safety data
Epidemiology reports

Which metrics to use to measure vaccine efficacy

Relative risks - by vaccine status population

How to compute percentages of vaccinated among weekly cases

Analysis of algorithmic biases in reporting data
Variation of vaccine efficacy by variants
Variation by age

How to measure the level of pandemic:

C19 deaths vs. C19 cases,
How C19 deaths are defined: deaths from C19 vs. deaths with C19,
C19 deaths vs. deaths from other causes

How to measure C19 vaccines severe reactions,

what are main vaccines severe reactions, how many deaths, recalls, reports
Pfizer documents released under court order
Efficacy vs. safety

Variation of C19 deaths and vaccine adverse reactions by age

How children are affected

Official Data from other countries (US, UK, NZ)

Natural immunity
Covid-alone deaths
Common framework

Data science tools we wish to have and build

Dashboard
Googlesheets - for everyone!
Interactive web applications - for advanced data scientists

Deaths tracking
Vaccine side effect miner
Data extraction and text abstractor from PDF reports
---
Past Seminars
May 9-17, 2022:
"Various visions for better world. From theory to practice: XX century vs. XXI century, with and without vaccine"
We'll follow up on this comment: https://twitter.com/Gorodnichy_Dm/status/1522983321965568000
The fact that Ontario is quietly changing the definition of "fully vaccinated" - to 3 Covid Vaccine doses for 12-59 year olds and 4 doses for those over 60 - tells a lot about long-term vision of our governments for #Canada and #Canadians. http://health.gov.on.ca/en/pro/programs/publichealth/coronavirus/docs/vaccine/COVID_19_vaccine_up_to_date.pdf
https://ivim.substack.com/p/various-visions-for-better-world
https://ivim.substack.com/p/main-observations-so-far-excess-deaths
https://ivim.substack.com/p/open-letter-to-chief-science-advisor
Announcement: https://ivim.substack.com/p/when-extra-dose-helps-and-when-it
We'll follow up on this Twitter comment made in relationship to the proposed new budget that plans to set a 3 year travel ban on unvaccinated Canadians. (Source: https://budget.gc.ca/efu-meb/2021/report-rapport/EFU-MEB-2021-EN.pdf). From the budget, it appears that Government of Canada is making a bold prediction for the Future. Specifically, it predicts in 3 years from now: A) there will still be the pandemic in Canada, and B) that unvaccinated who will pose the highest risk of catching and transmitting the infection. How can they predict it? Lets see...
One way to look at the problem of future prediction is using a famous maxim which states "Best way to predict Future is to make it". We will do it though in a different way - using Government of Canada own official data and the technique called "Machine learning", which is a domain-agnostic data science technique that predicts future outcomes by learning from the historical data. An example of such as data is shown in the image below. So far our predictions, which we made back February 4, 2022 during our first seminar and which you can watch from Past Seminars, are over 90% accurate. - Three months ago, we predicted that percentage of Full vaccinated among cases will be only monotonically growing, and it does exactly that!
---
29 April 2022: Update on Cases following vaccination, Excess Deaths in Canada, Death tracker app (video, transcript)
The results for excess deaths in year 2020 and 2021 are in. They look nothing but normal, and very different from one province to another (See image below. Images for various age groups are here). What do they tell us about pandemic and vaccine safety and efficacy? We will discuss it this week!
22 April 2022: All data time-series, UK data, Boosters, COVID Death definitions (video, transcript)
New dashboard -importance of plottin time-series for all statistics
New data from PHAC - reported rates keep going up
Do Boosters help? - using data from official UK and Canada data (See this Twitter post)
How "COVID Death" are defined in UK and Canada
15 April 2022: There was NO seminar this week because of Good Friday.
However much work done, including:Open Letter to Chief Science Advisor of Canada, new dashboard and new results about 'efficacy' of boosters. Check them out on our Twitter account!
8 April 2022. Part 1: Analysis of latest Canada Epidemiology Update data (video, slides)
- New efficacy metrics added: Odds of deaths for populations
- Number of fully vaccinated among deaths went down 90% to 65%,
- Relative number of deaths per each vaccination status population. Is one dose the best? Do boosters help?
- Concern about the use of algorithmic bias in PHAC reports submitted to Office Auditor General. See: ivim.ca/bias.htm
8 April 2022. Part 2: Data from Pfizer pdf reports, discussion (video, slides)
Building a tool to extract data from PDF reports
Examples: Canadian PHAC reports, Pfizer released documents mentioning "Canada"
Wish-list: Intelligent keyword search, tables detection, automated abstracts … Feedback
1 April 2022: Tracking PHAC Epidemiology data using Google spreadsheets (video, slides)
- How to paste data from PDF reports to spreadsheet
- Percentage of fully vaxed among COVID deaths is higher than full vaccination rate
- Addressing comments - Better metric to measure chance of dying from COVID (by population
2022-03-25: Analyzing Vaccine Side Effects - Part 2: How to compute weekly stats. Variation by Age (video, slides)
In this part, we analyze the number of complications from COVID vaccine (including deaths) for various age groups, using data from US, UK and Canada, and compare it to that from COVID. As noted in last week's seminar, Data gathered by various governments (including Canada own PHAC data) point to the fact that starting from summer 2021 young people (under 40 and esp. under 20) get more heath complications from COVID vaccine than from Covid itself. We'll show the exact numbers and how they are derived.
Additional data on effect C19 vaccines on children: https://jasonmorphett.substack.com/p/...
2022-03-18: Analyzing Vaccine Side Effects. Part 1 (video, slides)
We talk about official data that have been collected by Canadian, UK and US governments related to vaccine efficiency and side-effects, and how we can analyze and visualize it using contemporary data science tools. Dmitry talks about Canadian data and tools we developed here. Jason talks about UK and US data and the tools developed there. He describes The Coronavirus Adverse Vaccine Event (CAVE) project and present the Shiny App that he developed that performs semantic search and text analysis of US Government 's Vaccine Adverse Events database: https://vaccines.shinyapps.io/cave/.
2022-02-25: Analysis of PHAC 'Cases following vaccination' data (video, slides)
Observation: Because PHAC computes statistics counting Deaths from the first day of Vaccination (December 14, 2020), when there was negligible percent of Fully vaccinated, the results reported by PHAC are skewed significantly (by order of magnitude) in favour of Fully vaccinated. The skew was most noticeable at early stages of reporting these statistics (July - September), when instead of the observed 10%-30% deaths among Fully vaccinated, PHAC reported only 1%-3% of them.
The following presentation was given to the Government of Canada employees, who expressed interest in learning about the latest Government of Canada data related to COVID-19 vaccination. A considerable portion of this presentation was about how to create a safe and respectful environment within Government of Canada where Government of Canada employees can discuss this topic ("The Elephant in the Room"), which is already causing much of polarization within Canadian public, including among the Government of Canada employees, and which has led to the largest in the Canadian history demonstrations of protests of Canadians against the government. government, demanding it to revoke its "Mandatory Vaccination Policies" The solution to this problem was seen in keeping the discussion focused entirely on Canada's own sources and open data, much of which – thanks to the Open Government and Scientific Integrity policies introduced by the Liberal Government several years ago – have now become available, including statistics of the number of deaths by cause and by vaccination status, which can be analyzed and effectively visualized using contemporary open source data science tools such as R and RStudio.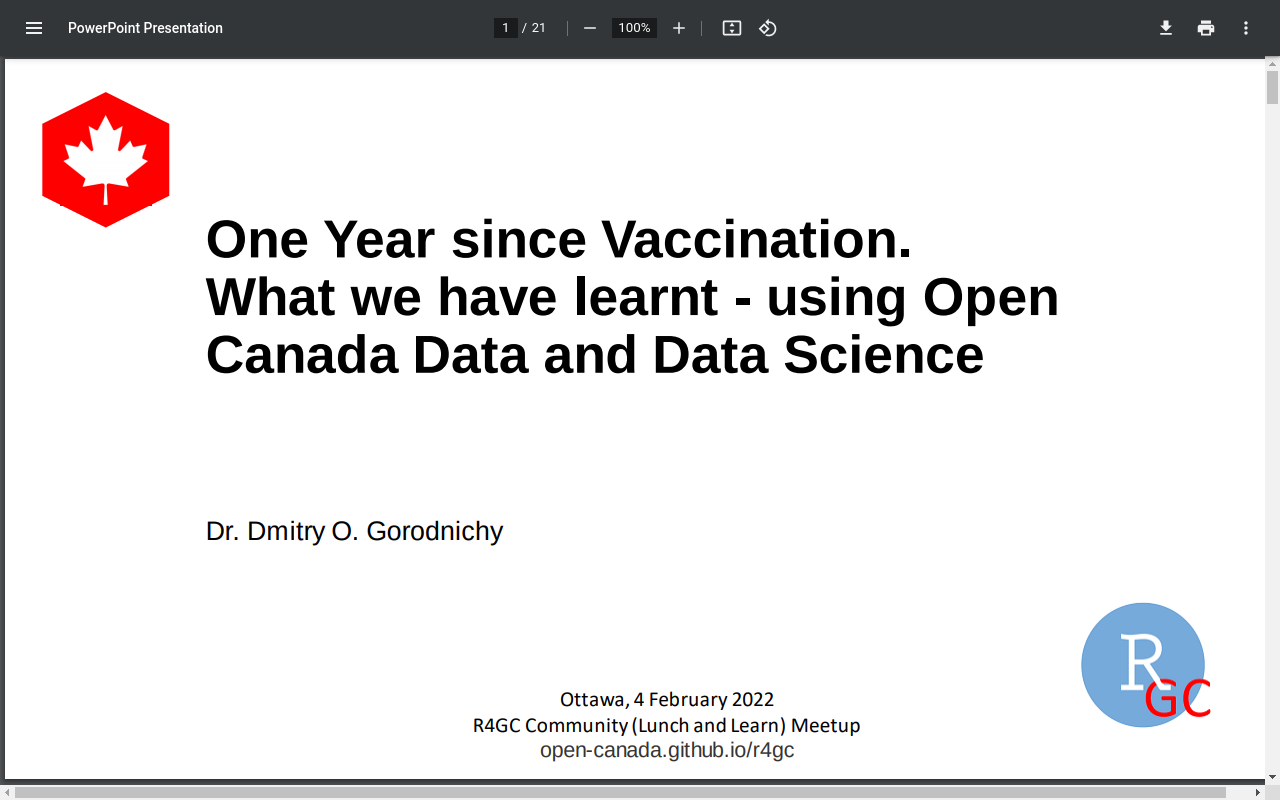 F.A.Q.
Question #1: How "COVID Death" are defined?
According to the Office of National Statistics in the United Kingdom (Section 5. Definition of COVID-19 deaths) -https://www.ons.gov.uk/peoplepopulationandcommunity/
birthsdeathsandmarriages/deaths/methodologies/coronavirusandmortalityinenglandandwalesmethodology:

COVID-19 Death:

"Deaths where the patient died within 60 days of testing positive for COVID-19 or after 60 days but COVID-19 was mentioned on the death certificate. Also includes deaths where the patient died within (equal to or less than) 28 days of testing positive for COVID-19."

In Canada though they are defined differently and not as deterministically (i.e. unambiguously) as in UK. According to:
https://ipac-canada.org/coronavirus-resources.php and https://www.canada.ca/en/public-health/services/diseases/2019-novel-coronavirus-infection/health-professionals/national-case-definition.html (Last updated: March 3, 2022):

Deceased case:

A probable or confirmed COVID-19 case whose death resulted from a clinically compatible illness, unless there is a clear alternative cause of death identified (e.g., trauma, poisoning, drug overdose).

A Medical Officer of Health, relevant public health authority, or coroner may use their discretion when determining if a death was due to COVID-19, and their judgement will supersede the above-mentioned criteria.

A death due to COVID-19 may be attributed when COVID-19 is the cause of death or is a contributing factor.

ICD code(s)

U07.1 COVID-19, virus identified

U07.2 COVID-19, virus not identified

U07.3 Multisystem inflammatory syndrome associated with COVID-19

U07.4 Post COVID-19 condition as diagnosis type (3)/other problem

U07.5 Personal history of COVID-19 as diagnosis type (3)/other problem

Previous case definitions

Previous versions of the COVID-19 case definition are available upon request. Please email COVID19Surveillance@canada.ca to request a copy or for more information.